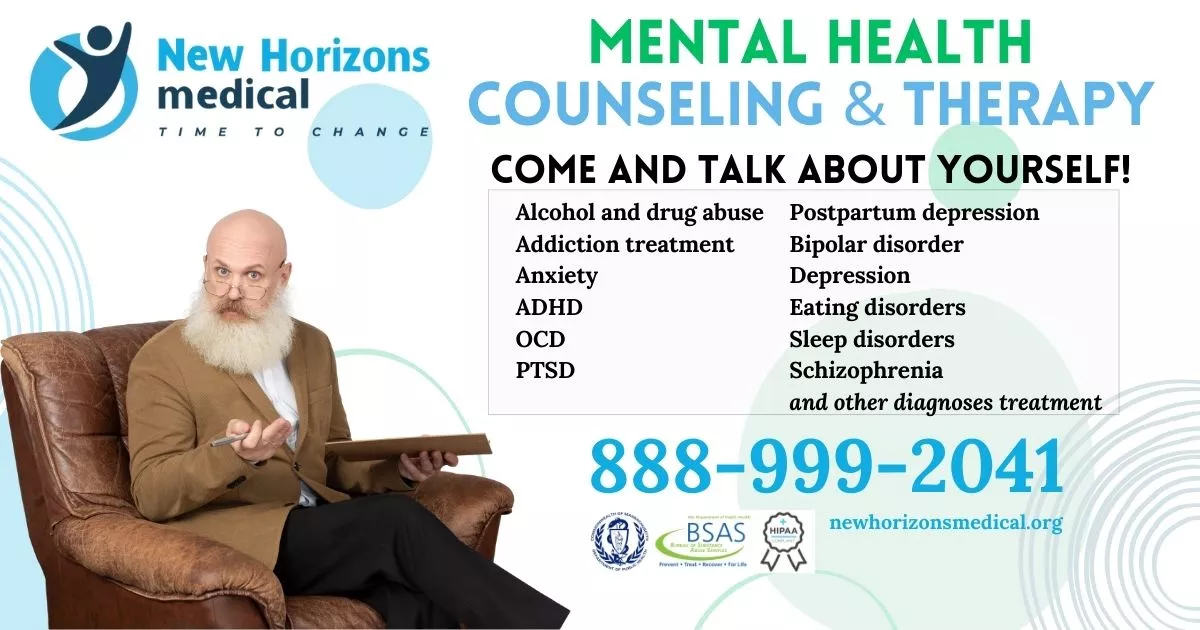 Mental health is an essential aspect of overall health, and seeking counseling or therapy is a crucial step towards improving one's mental well-being. If you are living in Boston and looking for mental health counseling, there are numerous options available. However, finding the right therapist might seem overwhelming as it requires careful consideration. In this post, we will discuss mental health counseling tips on what to look for in a therapist, how to prepare for a session, what goals to set, and how often to see a therapist.
What to Look for in a Therapist
Finding the right mental health therapist is crucial for the success of your therapy. When looking for a therapist in Boston, you should consider the following factors:
Qualifications: Make sure your therapist has the proper qualifications, such as a degree in psychology, counseling, or social work. You can verify their credentials on portals like Massachusetts Office of Health and Human Services (EOHHS) – Health Professions License Verification Site.
Specialization: Consider a therapist who specializes in the issues you are facing. For example, if you are struggling with an addiction disorder, look for a therapist who has experience treating addiction disorders.
Style: Everyone has different preferences when it comes to the therapist's style. Some prefer a more structured approach, while others prefer a more relaxed, conversational style. It's important to find a therapist whose style resonates with you.
Availability: Consider a therapist who can accommodate your schedule and availability. Some practices, like New Horizons Medical, might offer virtual mental health counseling sessions as well as in-person appointments.
Personal connection: It's important to feel comfortable with your therapist and to establish a positive and trusting relationship. It is okay to check with a number of mental health counselors in your area before choosing the one you have a good connection with.

Preparing for a Session
Preparing for a therapy session can help you make the most of your time with your mental health therapist. Here are some tips:
Write down your thoughts and feelings: Before the session, take some time to reflect on your thoughts and feelings. Write them down in a journal or on a piece of paper to help you remember them during the session.
Identify your goals: Think about what you want to achieve from the therapy sessions. Do you want to reduce anxiety or depression? Do you want to improve your relationships? Having clear goals can help you stay focused during the sessions.
Bring a list of questions: Write down any questions or concerns you have before the session so that you don't forget to ask them during the session.
Setting Goals
Setting goals is an important part of the therapy process. Goals provide a roadmap for the therapy sessions and help you stay focused on what you want to achieve. Here are some examples of goals you can set:
Manage symptoms of anxiety or depression: If you are struggling with anxiety or depression, your goal could be to learn techniques to manage your symptoms. There could be underlying diagnoses triggering such symptoms, such as substance use, eating, sleep disorders, and more.
Improve communication skills: If you are having trouble communicating with your partner or friends, your goal could be to improve your communication skills.
Increase self-esteem: If you are struggling with low self-esteem, your goal could be to work on building self-confidence.
Address past trauma: If you have experienced trauma in the past, your goal could be to work on healing from those experiences.
How Often to See a Therapist
The frequency of therapy sessions depends on the individual and the severity of the issues they are facing. Some people may benefit from weekly sessions, while others may only need to see their therapist once a month. Your therapist will work with you to determine the frequency of the sessions based on your goals and progress.
Mental health counseling tips summary
Finding the right therapist requires careful consideration of factors such as qualifications, specialization, style, availability, and personal connection;
You should prepare for a therapy session by reflecting on your thoughts and feelings, identifying your goals, and;
Bring a list of questions to help you make the most of your time with your therapist.
We hope our list of mental health counseling tips will help you get great value out of your future sessions.
Do you have other questions? Read about mental health counseling at New Horizons Medical.

Address: 358 Harvard St Brookline MA 02446 (get route by Google)
Nestled in the heart of Coolidge Corner, our office is easily accessible by public transportation and major highways.
Address: 214 Howard St Framingham MA 01702 (get route by Google)
The office is a 10 min walk from the Framingham Commuter Rail station for ready access from Boston and Worcester. There is a big parking lot in front of the building if you travel by car.
Address: 62 Brown St Haverhill MA 01830 (get route by Google)
The Haverhill office is conveniently located near Merrimack Valley Hospital. There is plenty of parking available at the medical center right in front of our office. After parking, enter the gray building and go to suite 505.
Address: 222 Blossom St Lynn MA 01905 (get route by Google)
New Horizons Medical office is located close to Lynn's downtown and is just a 10-minute walk from the Lynn train station.
Address: 500 Congress St Quincy MA 02169 (get route by Google)
New Horizons Medical office is conveniently located in South Quincy. The office is easily accessible by highway and public transportation. We are located in a medical building in Suite 2G.
Counseling & Psychotherapy Appointments Near You!
Our offices are easily accessible by public transportation and have plenty of parking available. Mental Health Counseling and Psychotherapy Services in Boston, Jamaica Plain, Cambridge, Brighton, Newton, Needham, Waltham, Somerville, Dorchester, Dedham, Brockton, Braintree, Weymouth, Milton, Norwood, Wellesley, Natick, Wayland, Weston, Belmont, Ashland, Southborough, Marlborough, Worcester, Sudbury, Revere, Medford, Malden, Melrose, Saugus, Swampscott, Winthrop, Peabody, Beverly, Lawrence, Lowell, Newbury, Andover. Very convenient from anywhere in Massachusetts!