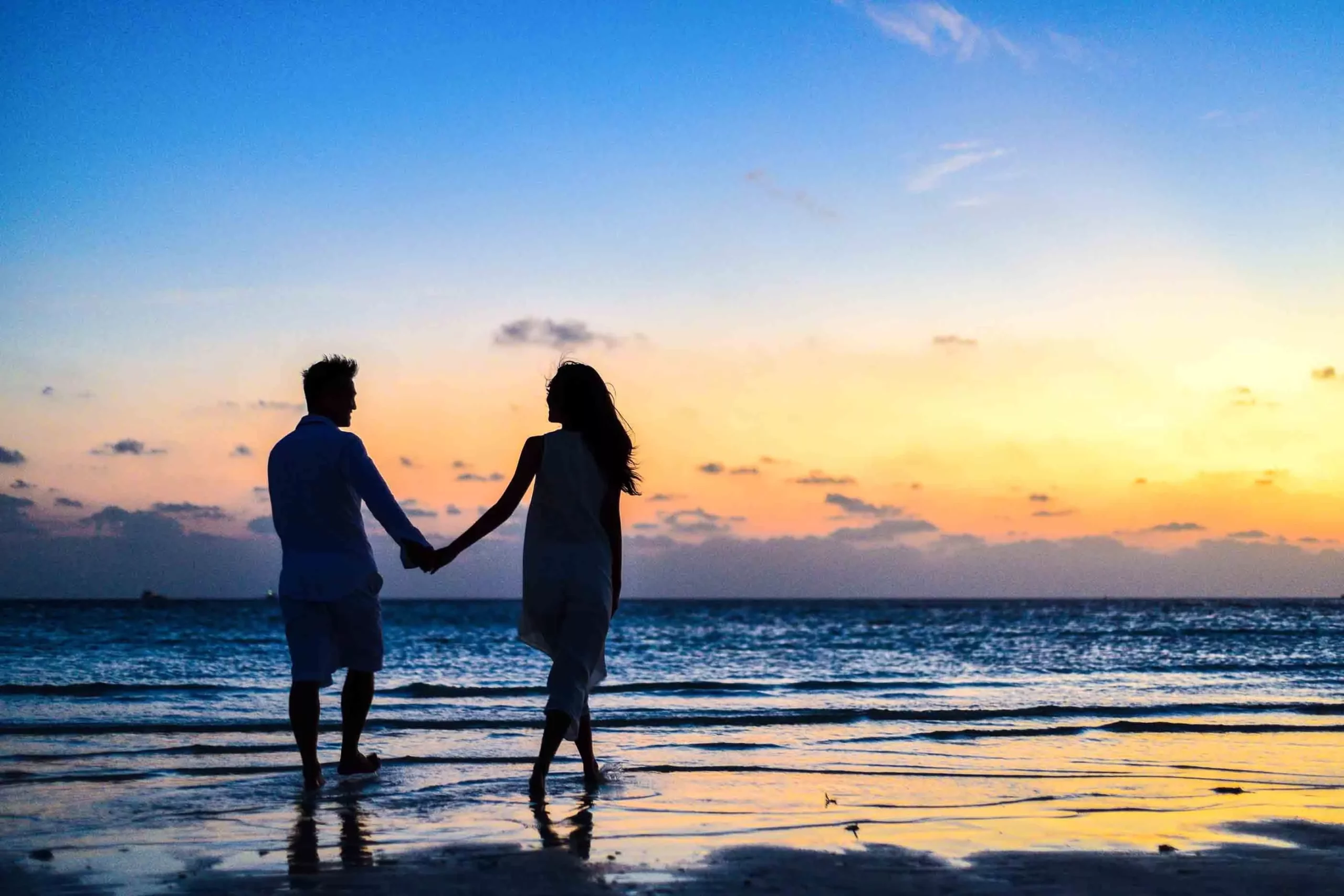 New Horizons Medical provides Outpatient Medically Assisted Alcoholism Treatment (MAT) with Counseling which had proven to be an effective method of treating alcohol dependency disorders.
Treatment
When enrolled in our program, patients will work closely with medical providers and mental health counselors. Our clinics offer a safe, confidential, and supportive environment where patients can receive attentive and individualized care in accordance with their specific needs. We offer same-day Vivitrol treatment to eligible patients.
Contact us today for in-person and telemedicine appointments!
Outpatient Alcohol Dependency Treatment with Naltrexone and Vivitrol
We accept most insurance and offer same-day appointments. No need to wait!
Individual psychotherapy and mental health counseling
Medication management
Crisis therapy

About Naltrexone
Naltrexone medication is used with therapy to help stabilize people that are struggling with alcohol abuse. The medication can be prescribed during the first visit per the medical provider's consideration and your health history. Naltrexone comes in a form of tablets or as part of a long-release formulation, Vivitrol.
Naltrexone is not a narcotic, doesn't build new dependence, and helps reduce cravings and block alcohol effects on the brain. Our providers will provide treatment for binge drinking, heavy drinking, alcohol drinking during pregnancy, and any other alcohol abuse for adults over 18.
Schedule an Appointment for Alcohol Abuse Treatment
Addiction is a medical condition. Treatment can help. Recovery is possible.
Most health insurance plans are accepted. Your recovery is in good hands with us.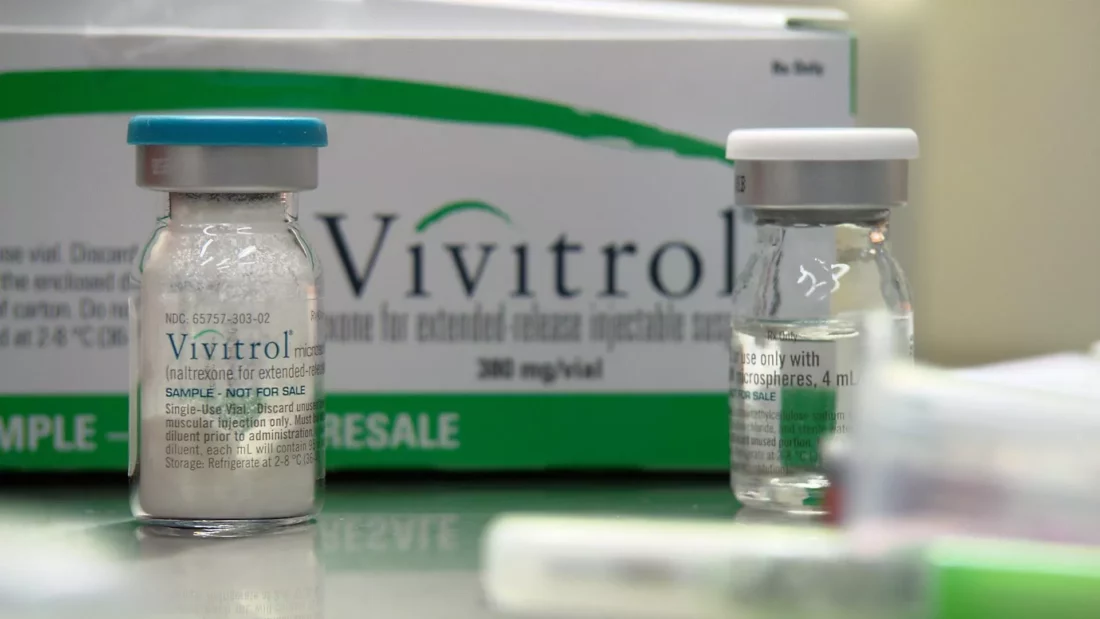 Benefits of the outpatient alcoholism treatment at New Horizons Medical
The mission of New Horizons Medical is to provide patients with compassionate, comprehensive, and evidence-based treatments for substance use disorders and psychiatric diagnoses. Our dedicated staff and providers are committed to support patients in achieving well-being and maintaining recovery.
Receive treatment while living at home;
Allows for more time to work and go to school;
Spend more time with your family and friends;
Tailored programs to individuals' needs;
Affordable compared to inpatient recovery treatment;
Most insurances cover substance use treatment at low cost to patients.
Alcohol Abuse Treatment Cost
Alcohol abuse treatment services are covered by most health plans. New Horizons Medical is contracted with major insurance plans in Massachusetts and is accepting Medicaid, Medicare, Blue Cross Blue Shield, Wellsense, and other health plans for alcohol addiction treatment. Our contracts allow for low appointment costs for patients. If you would like to pay out of pocket for alcohol recovery services, please contact our office at 888-999-2041.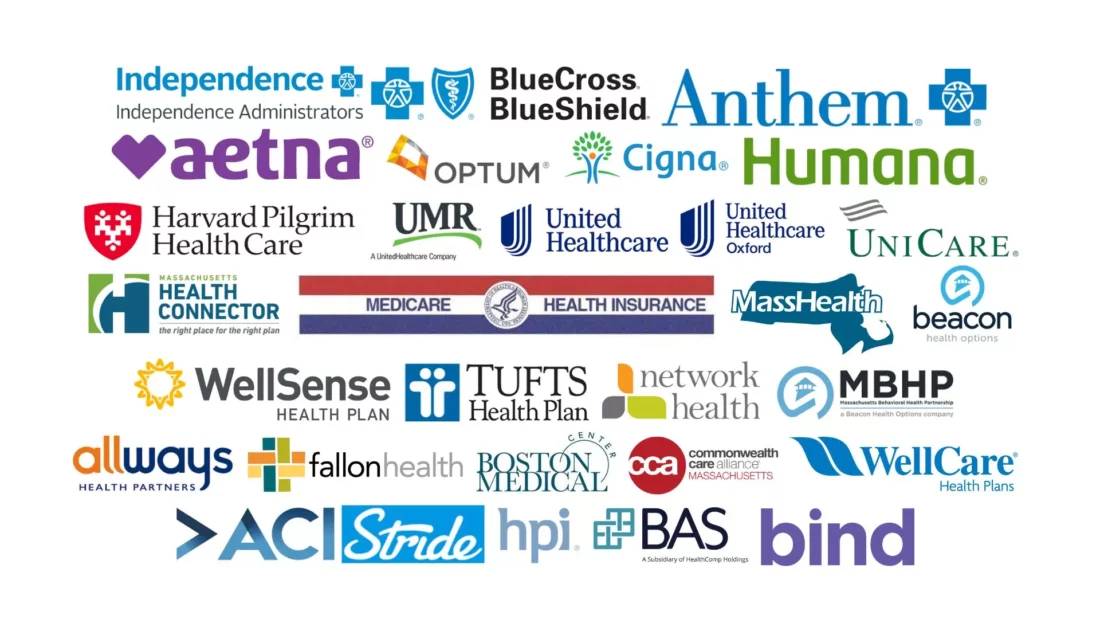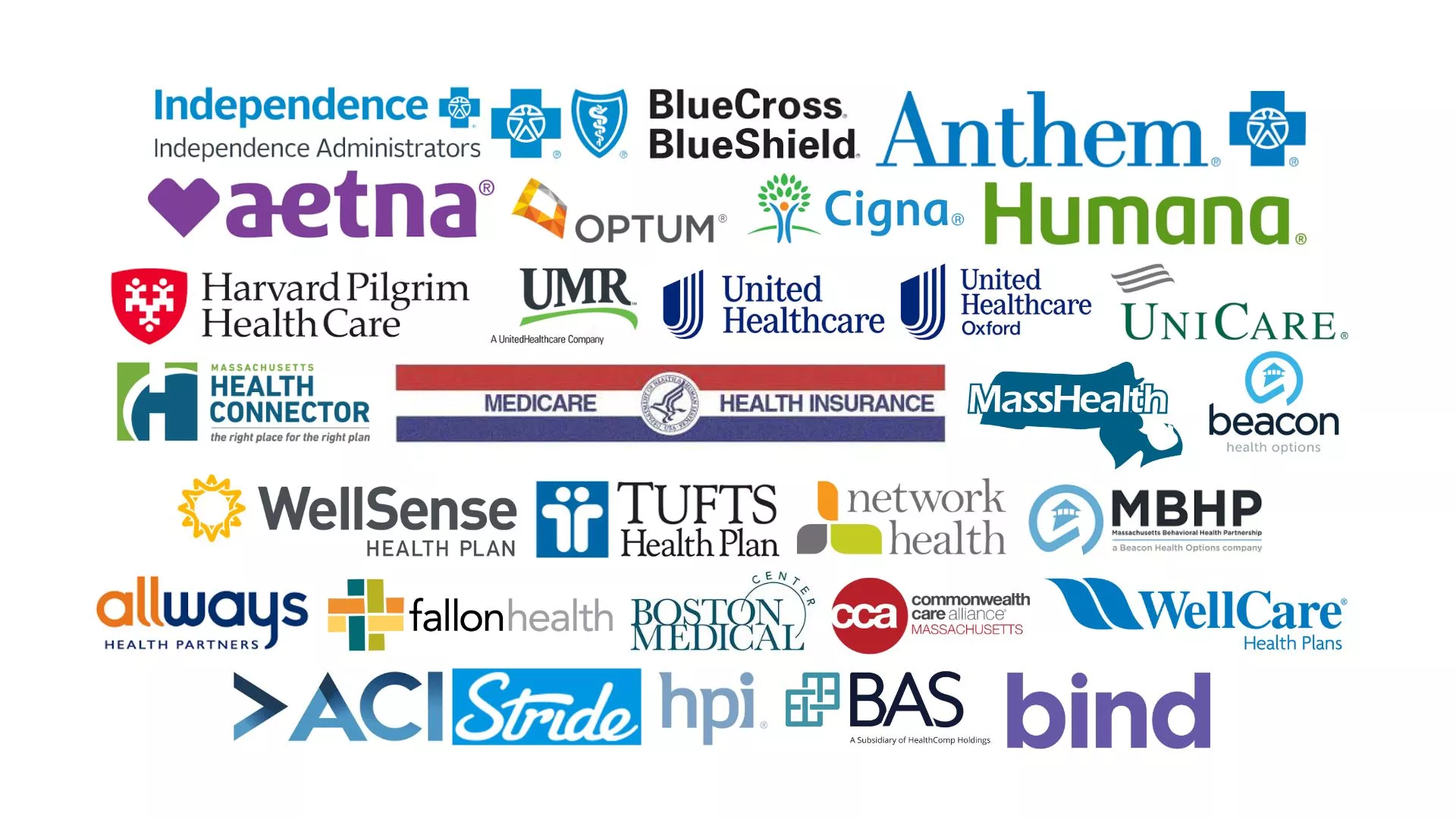 Alcohol Accessibility and Effects
Alcohol is a substance that is readily available for purchase, at parties, and other places as well as it can be cheap – these factors could lead to developing substance dependence. Even small doses of alcohol cause changes in brain circuitry in a region that is essential for the development of addiction. Regular consumption only intensifies the brain and body chemistry imbalance.
How to identify binge drinking?
Binge drinking, the most common form of excessive drinking, is defined as consuming:
For women, 4 or more drinks during a single occasion.
For men, 5 or more drinks during a single occasion.
Heavy drinking is defined as consuming:
For women, 8 or more drinks per week.
For men, 15 or more drinks per week.
Alcohol Withdrawal Symptoms
If a person drinks alcohol heavily and regularly for a prolonged time they might experience mental and physical challenges when trying to cut back or quit drinking. Withdrawals are uncomfortable and can even be dangerous. It is best to get through it with the help of qualified professionals and enroll in an alcohol abuse treatment program with regular counseling.
Mild alcohol withdrawal
When trying to quit drinking alcohol, people might experience mild alcohol withdrawal symptoms:
Tremors or shakes
Blood pressure changes
Anxiety
Increased Sweating
Vomiting
Increased heart beating
Insomnia
Severe alcohol withdrawal
People with heavy and prolonged alcohol drinking might also experience severe alcohol withdrawal symptoms:
Hallucinations
Confusions
Fever
Heavy sweating
Seizures
If you or someone you know is experiencing any of the above withdrawal symptoms it might be best to seek professional help.
If emergency treatment is needed, call 911.
To maintain sobriety, call 888-999-2041 to enroll in our outpatient program.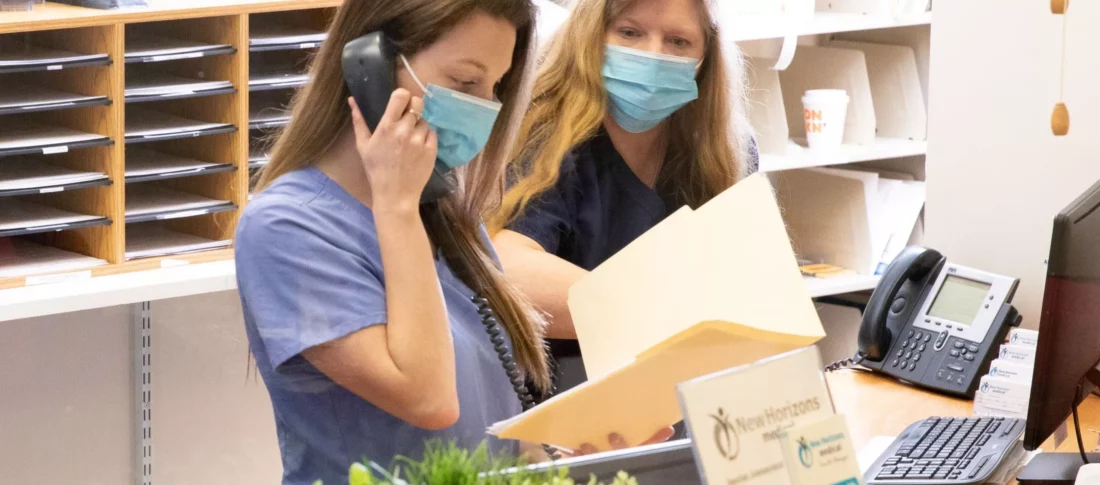 Short-term Alcohol Abuse Risks
Excessive alcohol use has immediate effects that increase the risk of many harmful health conditions. These are most often the result of binge drinking and include the following:
Injuries, such as motor vehicle crashes, falls, drownings, and burns.
Violence, including homicide, suicide, sexual assault, and intimate partner violence.
Alcohol poisoning, a medical emergency that results from high blood alcohol levels.
Risky sexual behaviors, including unprotected sex or sex with multiple partners. These behaviors can result in unintended pregnancy or sexually transmitted diseases, including HIV.
Miscarriage and stillbirth or fetal alcohol spectrum disorders (FASDs) among pregnant women.
Long-Term Alcohol Abuse Risks
Over time, excessive alcohol use can lead to the development of chronic diseases and other serious problems including:
High blood pressure, heart disease, stroke, liver disease, and digestive problems.
Cancer of the breast, mouth, throat, esophagus, voice box, liver, colon, and rectum.
Weakening of the immune system and increasing the chances of getting sick.
Learning and memory problems, including dementia and poor school performance.
Mental health problems, including depression and anxiety.
Social problems, including family problems, job-related problems, and unemployment.
Alcohol use disorders, or alcohol dependence.
If you or a loved one is experiencing some of these symptoms it is time to talk. At New Horizons Medical, our administrative and clinical team is ready to help you. We offer a friendly, supportive, and knowledgeable environment to get all the questions answered. Call us today or visit one of our locations for a free consultation and to schedule an appointment.
How to enroll in an outpatient alcohol abuse treatment program?
Contact New Horizons Medical Treatment Center to make an appointment for the Outpatient Alcohol Abuse program. Call 888-999-2041 for a free consultation and to schedule your appointment today.
See How to Get Started? page for more info.
Learn more! Is Vivitrol treatment right for me?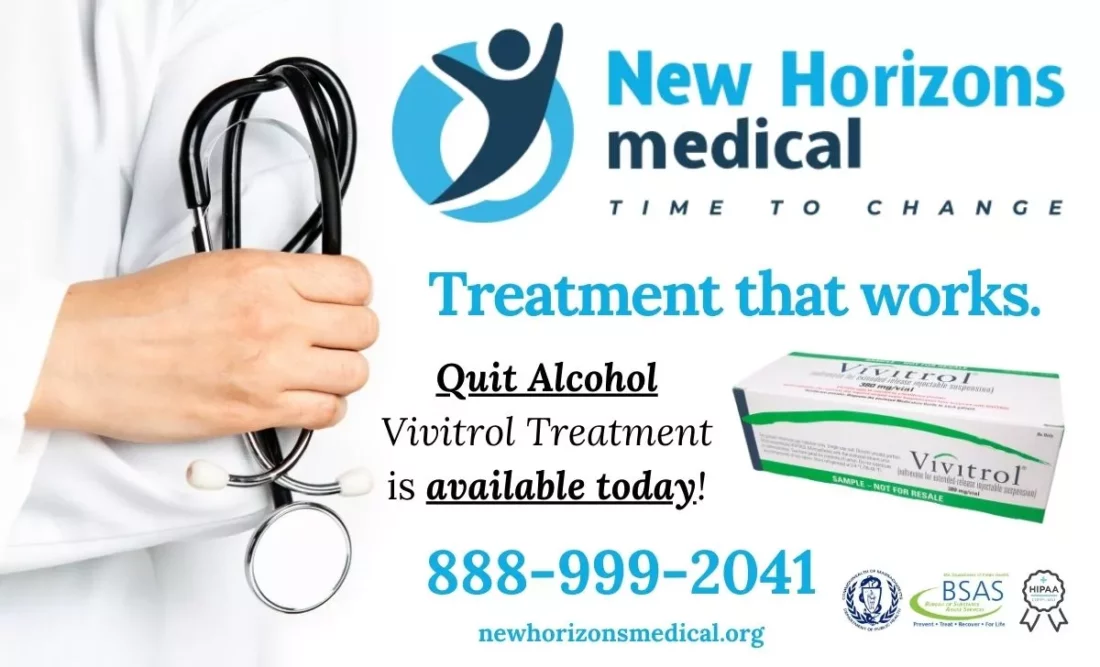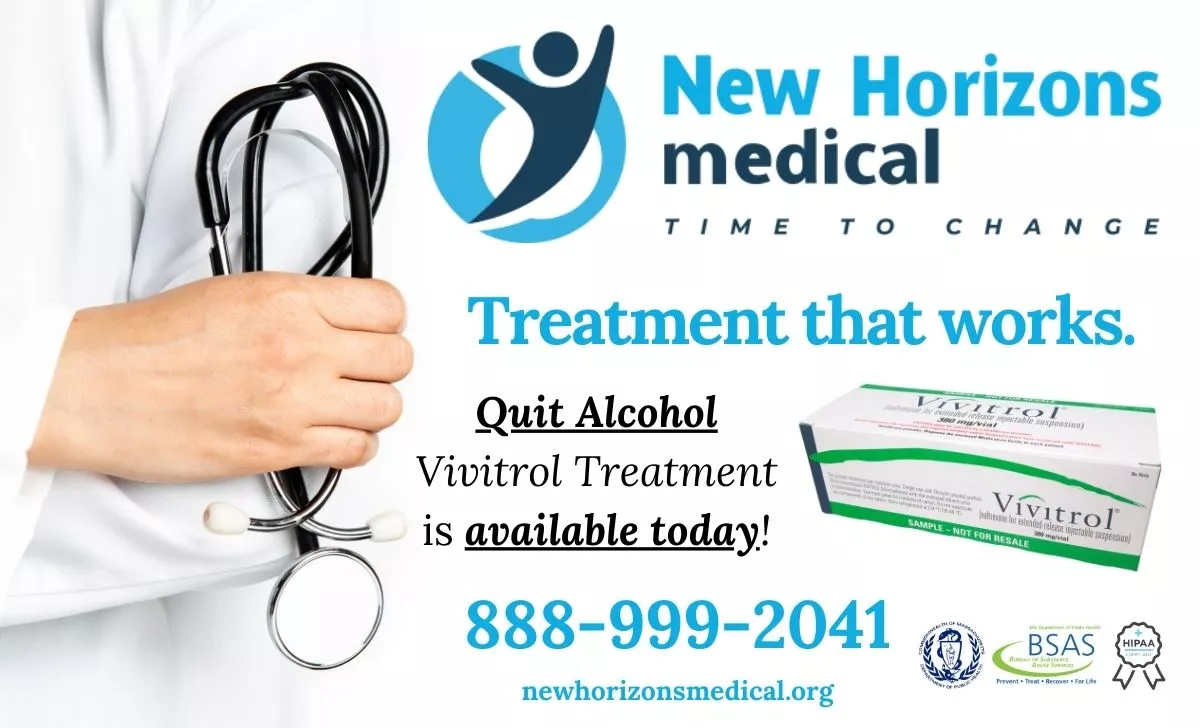 Our nearest location is conveniently located near Boston, right off the Coolidge Corner; use green MBTA line to get to our Brookline office!
Address: 358 Harvard St Brookline MA 02446 (get route by Google)
Nestled in the heart of Coolidge Corner, our office is easily accessible by public transportation and major highways.
Address: 214 Howard St Framingham MA 01702 (get route by Google)
The office is a 10 min walk from the Framingham Commuter Rail station for ready access from Boston and Worcester. There is a big parking lot in front of the building if you travel by car.
Address: 62 Brown St Haverhill MA 01830 (get route by Google)
The Haverhill office is conveniently located near Merrimack Valley Hospital. There is plenty of parking available at the medical center right in front of our office. After parking, enter the gray building and go to suite 505.
Address: 222 Blossom St Lynn MA 01905 (get route by Google)
New Horizons Medical office is located close to Lynn's downtown and is just a 10-minute walk from the Lynn train station.
Address: 500 Congress St Quincy MA 02169 (get route by Google)
New Horizons Medical office is conveniently located in South Quincy. The office is easily accessible by highway and public transportation. We are located in a medical building in Suite 2G.
Our offices are easily accessible by public transportation and have plenty of parking available. Alcohol Abuse Treatment with Vivitrol in Boston, Jamaica Plain, Cambridge, Brighton, Newton, Needham, Waltham, Somerville, Dorchester, Dedham, Brockton, Braintree, Weymouth, Milton, Norwood, Wellesley, Natick, Wayland, Weston, Belmont, Ashland, Southborough, Marlborough, Worcester, Sudbury, Revere, Medford, Malden, Melrose, Saugus, Swampscott, Winthrop, Peabody, Beverly, Lawrence, Lowell, Newbury, Andover. Very convenient from anywhere in Massachusetts!
Alcohol abuse treatment is most effective when you feel comfortable speaking with your provider. At New Horizons Medical, we protect your privacy and confidentiality by following professional ethics as well as state and federal laws. No information about your treatment at NHM is available to anyone outside our organization unless permitted by your writing permission. This includes NHM personnel, parents and family members, friends, or any outside agencies
Exceptions to Confidentiality
If you choose New Horizons Medical to bill your insurance for appointments, the minimal necessary information will be shared with covered entities to obtain payment; see INFORMATION PRIVACY AND HIPAA for more info.
Another exemption to confidentiality would only apply if we deem it necessary to protect you or someone else from physical harm. This is a legal requirement step for harm prevention. The exception includes, only when legally required and all protocols followed:
Child and elder abuse
Psychiatric hospitalizations
Court order