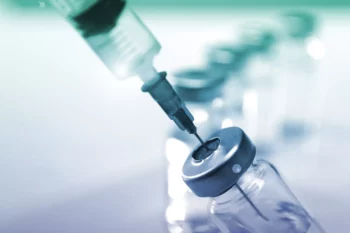 This section provides answers to common questions about Naltrexone (Vivitrol) medication. See the bottom of this page for references and links. When using any information presented here, please include a backlink to the page and reference where applicable.
Risk of opioid overdose disclaimer from VIVITROL
You may also be more sensitive to the effects of lower amounts of opioids:
after you have gone through detoxification
when your next VIVITROL dose is due
if you miss a dose of VIVITROL
after you stop VIVITROL treatment
Naltrexone in Vivitrol (Naltrexone for extended-release injectable suspension) is used to treat alcohol dependence and prevent relapse to opioid dependence, after opioid detoxification. Vivitrol is an extended-release formulation of Naltrexone which when administered orally or via injection has proven effective to prevent relapse, reduce cravings, and substance use urges in the early stages of addiction recovery. It is currently the only approved medication for opioid dependence which is not a controlled substance.
Table of Contents
What is Naltrexone?
Naltrexone is an FDA-approved medication most commonly prescribed for treating alcohol dependency disorders as part of medication-assisted treatment (MAT). The medication also can be used to treat opioid use disorders. For effective drug addiction treatment use of Vivitrol, a Naltrexone medication prescribed at New Horizons Medical, after the detoxification, the injections could produce similar effects for some patients as Buprenorphine-Naloxone medications.
Vivitrol is non-addictive and cannot lead to physical dependence. It utilizes an opioid blocker which can greatly reduce the risks of both Alcohol and Opioids Use Disorders. There are numerous benefits to using Naltrexone/Vivitrol for Alcohol and Opioid Abuse Treatment:
opioid blocker
once-monthly injectable
non-addictive
not a narcotic
requires detox if using opioids
used with counseling

Schedule an Appointment for Vivitrol Treatment
Who is it for?
Naltrexone helps patients to stay away from substance use as it blocks brain receptors responsible for bonding with alcohol and opiate compounds. When a patient is on the medication, they will not be able to feel drunk or high. Naltrexone(Vivitrol) is best used to treat Alcohol Use Disorders and Opioid Use Disorders in conjunction with addiction and behavioral health counseling.
The Naltrexone/Vivitrol medication is best for people looking to quit substance use. For patients, Vivitrol provides a "safety net" that helps their recovery goals as they know they wouldn't be able to feel alcohol or opiate effects.
How does it work and what are the effects of Naltrexone (Vivitrol)?
Naltrexone works by binding to alcohol and opioid receptors and blocking substances' effects. Once a patient stops drinking alcohol or using opiates, Naltrexone(Vivitrol) helps to maintain sobriety.
Pill or tablet form
Naltrexone is first prescribed in a pill form to track if there are any adverse reactions prior to doing a long-lasting Vivitrol injection. Naltrexone pill makes you stop drinking by making patients not feel the effects of alcohol. Oral medication usually works for 24-72 hours depending on the dosage.
Vivitrol injection form
For those receiving Vivitrol injections, the medication effects last up to 30 days after which a patient might choose to continue treatment.
Vivitrol, when administered, induces two distinct peaks of effect, first around two hours and then again around two to three days after administration. Although concentrations of Vivitrol in the body start to diminish approximately 14 days after administration in most individuals, its potency remains unaffected.
Furthermore, common side effects of Vivitrol, including nausea or localized reactions at the injection site, typically resolve within the initial few days following the injection.
Alcoholism Treatment with Vivitrol
Vivitrol is a medication used to treat alcohol dependency, often in an outpatient setting. It is often prescribed in a form of injections which can sustain for about a month. You should stop drinking before starting Vivitrol.
Once on medication, a patient will not be able to feel the "buzz" from alcohol. This is because the medication blocks the receptors in the brain responsible for reacting to alcohol. Over time, Vivitrol helps to change the behavior associated with drinking – as there is no more buzz there is less desire to drink. It is recommended to be enrolled in ongoing mental health therapy sessions to help patients remain stable, track progress, and set up new goals for recovery and healthy living.
Opioid Addiction Treatment with Naltrexone
Vivitrol can be prescribed to treat opioid addiction. Before starting on this medication, a patient needs to refrain from using opioids for 7-14 days to avoid sudden opioid withdrawal. Enrolling in a detox program for that period could help patients sustain withdrawal symptoms. Vivitrol is best used with ongoing therapy sessions to help patients track their progress, set up new goals, and remain stable in recovery.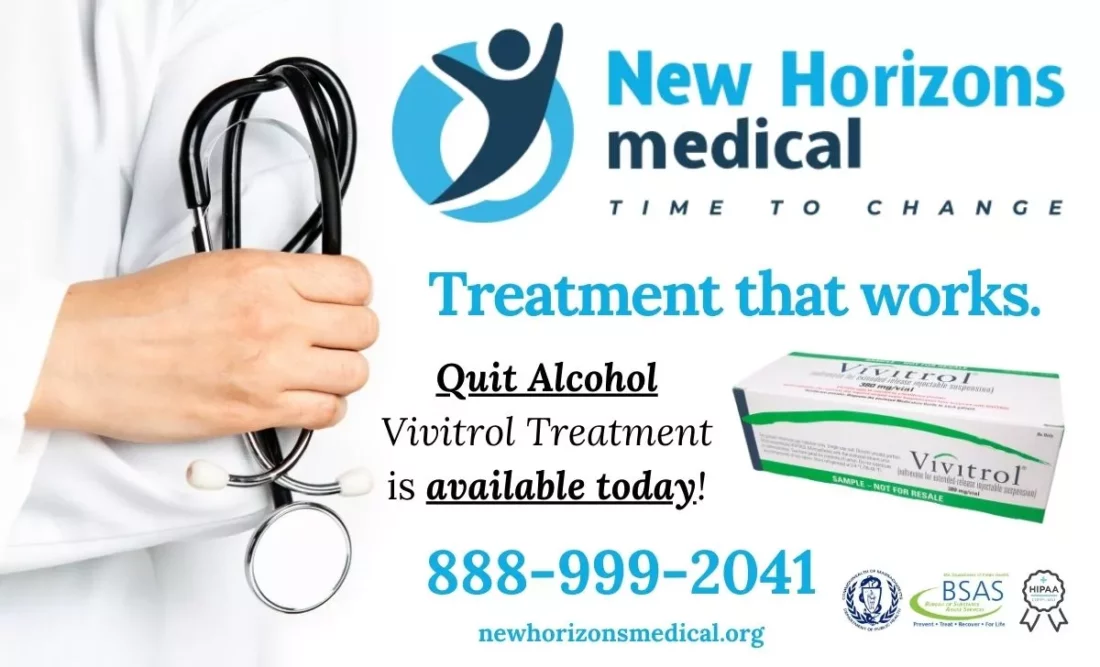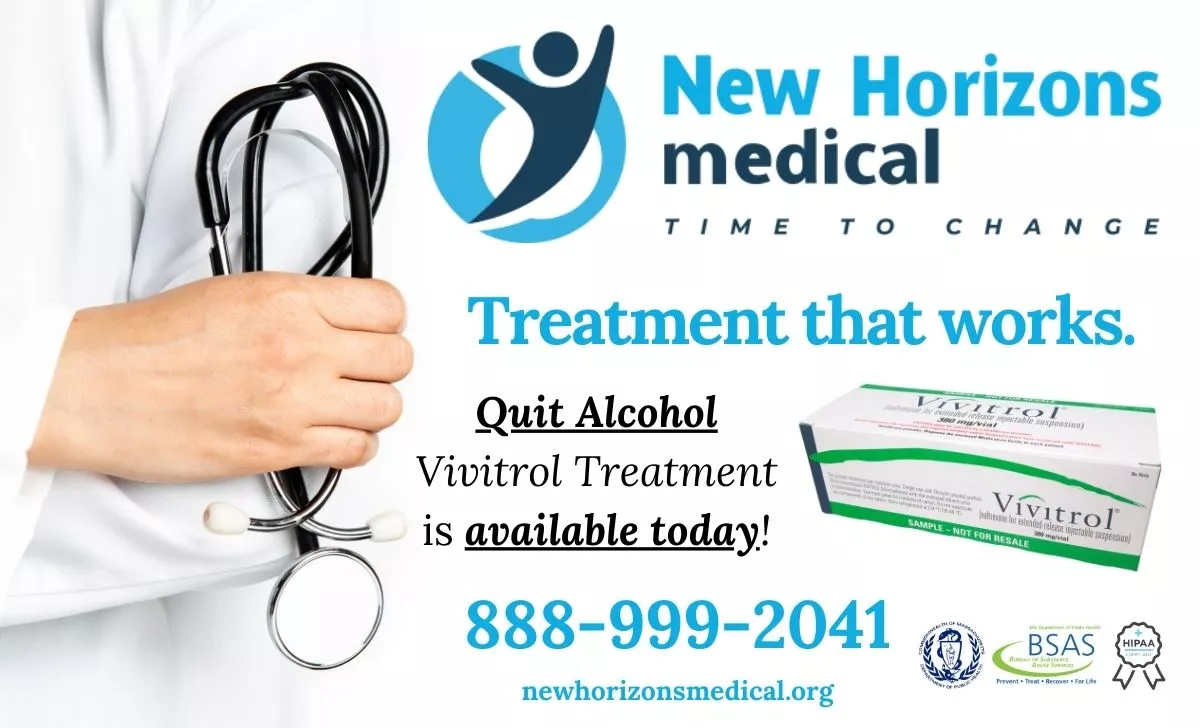 Schedule an Appointment for Alcoholism Treatment
Naltrexone side effects
There are potential side effects to Naltrexone which a provider can help you to manage by adjusting the dosage or prescribing additional medications. If you experience any of the below-mentioned symptoms, please let your provider know.
SAMHSA provides a list of some of the side effects below.
Common side effects may include:
Nausea; sleepiness; headache; dizziness; vomiting; decreased appetite; painful joints; muscle cramps; cold symptoms; trouble sleeping; toothache.
Serious side effects may include:
Severe reactions at the site of injection; intense pain; tissue death, surgery may be required; swelling, lumps, or area feels hard; scabs, blisters, or open wounds; liver damage or hepatitis is possible; stomach area pain lasting more than a few days; dark urine; yellowing of the whites of your eyes; tiredness; depressed mood.
Serious allergic reactions:
Skin rash; swelling of face, eyes, mouth, or tongue; trouble breathing; chest pain; feeling dizzy or faint; pneumonia.
Naltrexone Safety
When starting medication assisted treatment for alcohol abuse with Vivitrol, patients must not be dependent on alcohol or other substances. For the opioid treatment with Naltrexone, patients must not use short-acting opioids (heroin, fentanyl, etc.) for at least 7-14 days.
If you get any opioid withdrawal symptoms after doing the naloxone challenge test, do not start Vivitrol yet. The addiction treatment provider at New Horizons Medical will review your results and suggest another date for treatment after the opioid withdrawal effects disappear.
Schedule an Appointment for Opioid Abuse Treatment
What happens if you take opioids while on Vivitrol?
One serious side effect of Vivitrol is the risk of opioid overdose. When on Vivitrol, patients cannot feel the psychoactive effects of drugs and alcohol. Taking large or even the same amounts of opioids prior to detox to overcome the effects of Vivitrol can lead to an accidental overdose, serious injury, coma, or death. Get emergency help if you have trouble breathing, become drowsy with slow or shallow breathing, feel any faint, fizzy, or other unusual symptoms.
For Pregnant and Breastfeeding Women
"It is not known if Vivitrol will harm your unborn baby" 8. The known fact is that Vivitrol passes the placenta barrier8 meaning women taking the medication would pass it to the unborn baby. Women should consult with their medical provider at New Horizons Medical about the benefits and effects of the medication during pregnancy. Nonetheless, Naltrexone is well tolerated by both mother and unborn baby; newborns do not experience symptoms of neonatal abstinence syndrome if naltrexone medication-assisted treatment is maintained to delivery8.
Importance of Behavioral Therapy in Substance Use Treatment
Behavioral and Mental Health Therapy is an important component of a comprehensive treatment plan. It allows providers to create a recovery connection for a personalized approach and the patient's success in treatment.
At New Horizons Medical, we offer a confidential and safe environment where patients receive supportive counseling services in individual, group, couples, and family formats. Participating in counseling is a major step toward creating a balanced and healthy lifestyle. 
Our nearest location is conveniently located near Boston, right off the Coolidge Corner MBTA station on the green line.
Address: 358 Harvard St Brookline MA 02446 (get route by Google)
Nestled in the heart of Coolidge Corner, our office is easily accessible by public transportation and major highways.
Address: 285 Main St Fitchburg MA 01420 (get route by Google)
The office is a 3 min walk from the Fitchburg Commuter Rail station. There is a big parking lot in the back of the building if you travel by car.
Address: 214 Howard St Framingham MA 01702 (get route by Google)
The office is a 10 min walk from the Framingham Commuter Rail station for ready access from Boston and Worcester. There is a big parking lot in front of the building if you travel by car.
Address: 62 Brown St Haverhill MA 01830 (get route by Google)
The Haverhill office is conveniently located near Merrimack Valley Hospital. There is plenty of parking available at the medical center right in front of our office. After parking, enter the gray building and go to suite 505.
Address: 222 Blossom St Lynn MA 01905 (get route by Google)
New Horizons Medical office is located close to Lynn's downtown and is just a 10-minute walk from the Lynn train station.
Address: 500 Congress St Quincy MA 02169 (get route by Google)
New Horizons Medical office is conveniently located in South Quincy. The office is easily accessible by highway and public transportation. We are located in a medical building in Suite 2G.
Additional and Contact Information
Contact New Horizons Medical Treatment Center to make an appointment for the Outpatient Alcohol and Opioid Abuse program. Call 888-999-2041 for a free consultation and to schedule your appointment today. We offer a free with no cost to patients substance abuse treatment program for those with qualified insurance in Massachusetts.
Read more on our blog! Vivitrol Shot is a quick summary of this article.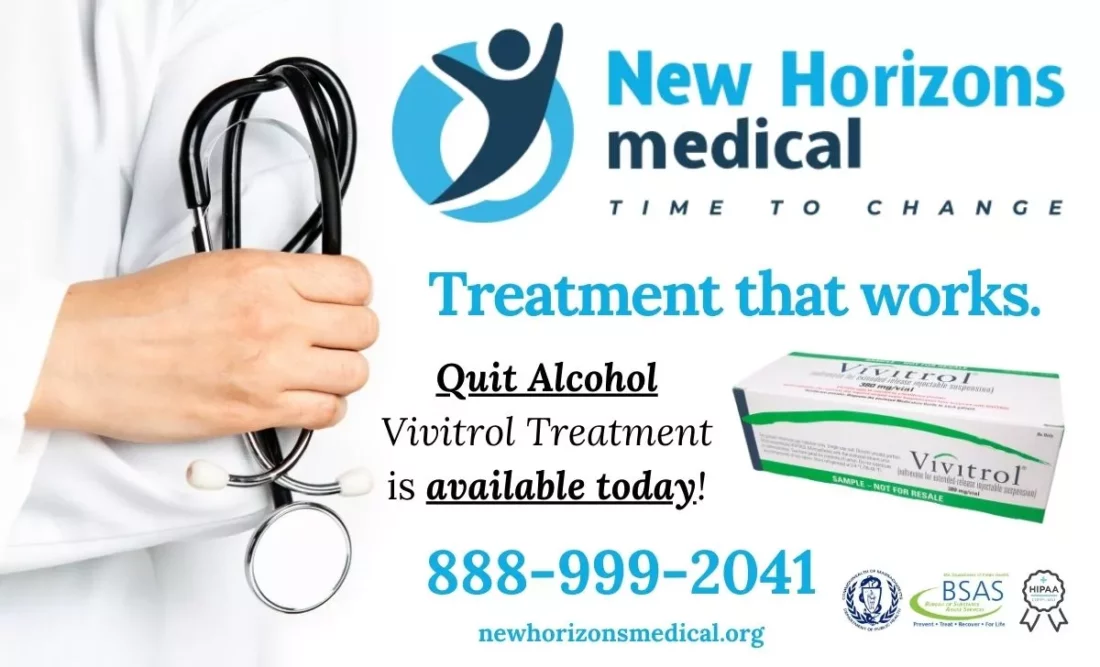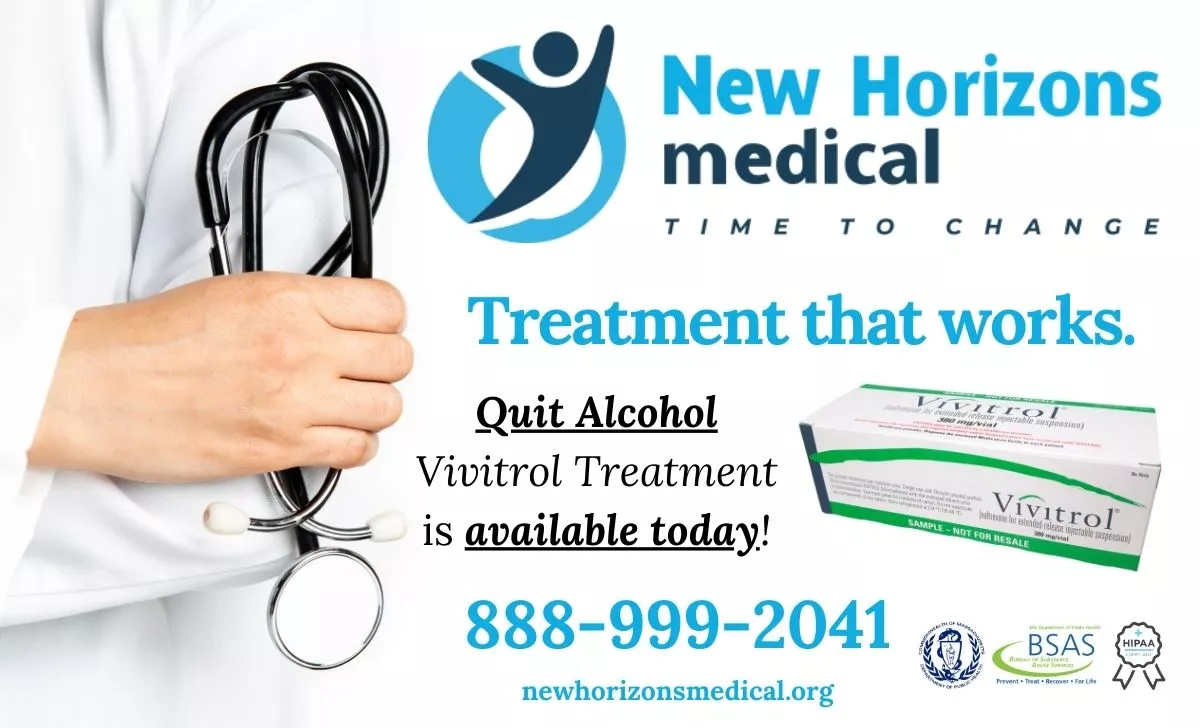 Publishing Disclaimer
The information and visuals on this page can be used by others only with proper attribution to newhorizonsmedical.org. When using any information presented here, please include a backlink to the page and reference where applicable.
References