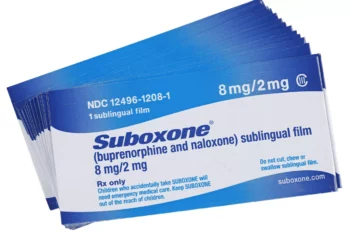 This section provides answers to common questions about Buprenorphine medication. See the bottom of this page for references and links. When using any information presented here, please include a backlink to the page and reference where applicable.
Table of Contents
Schedule an Appointment for Opioid Abuse Treatment
What is Buprenorphine?
Buprenorphine is a medication used to treat Opioid Use Disorder (OUD) as part of medication-assisted treatment (MAT). It is a partial opioid agonist, which means that it activates the same receptors in the brain as opioids like heroin or fentanyl, but it does so to a lesser degree. This reduces the risk of overdose and withdrawal symptoms compared to full agonists like these drugs. This medication helps people to quit or reduce the use of illicit opiates such as heroin, methadone, fentanyl, and other pain relievers like morphine, oxycodone, etc.
When prescribed in addiction treatment programs, Buprenorphine is a safer alternative to full opioid agonists and is less abused. Buprenorphine is often used in combination with naloxone, an opioid antagonist, which further reduces the risk of overdose and abuse. Buprenorphine can help reduce cravings and withdrawal symptoms, and it can also improve social functioning and reduce the risk of contracting infectious diseases like HIV or hepatitis C. It is important to note that Buprenorphine should be used as part of a comprehensive treatment plan that includes counseling and behavioral therapy9.
Who is it for?
Professional Buprenorphine treatment offers numerous benefits over a methadone clinic or self-medicating as it is more controlled and convenient. Patients enrolled in a substance use treatment program reportedly have more time for productive activities such as education and parenting; once stabilized on buprenorphine, people had experienced increased employment, community engagement, and better health and well-being5.
Buprenorphine medication is often prescribed in an outpatient addiction treatment center, clinic, or medical office with appointment frequency as suggested by the medical provider; it can range from a few days to multiple weeks. Substance use treatment with buprenorphine allows for much more flexibility than alternative methadone maintenance programs. Combined with behavioral services and counseling, this outpatient type program can be a comprehensive solution and an answer to drug addiction recovery.
Benefits of outpatient recovery treatment:
Receive treatment while living at home;
Allows for more time to work and go to school;
Spend more time with your family and friends;
Tailored programs to individuals' needs;
Affordable compared to inpatient recovery treatment;
Most insurances cover substance use treatment at low cost to patients.
Opioid Addiction Treatment with Buprenorphine
To begin outpatient treatment for opioid use disorder, a patient should not have used opioids or opiates at least 12-24 hours before their appointment. The patient also needs to be in the early stages of opioid withdrawal. Otherwise, when taking medication the patient may experience acute withdrawal symptoms.
The Buprenorphine dosage may be adjusted by the provider once the patient is stabilized on the medication: discontinued or greatly reduced opioid use, no cravings, and is experiencing a few to no side effects.
Schedule an Appointment for Opioid Abuse Treatment
See How to Get Started? page for more info about your first appointment.
Who can prescribe
Providers must complete special training and receive X-waiver certification to prescribe buprenorphine for opioid dependency treatment.
How does it work?
The medication lowers the harms associated with opioid/opiate misuse and gives people a chance to stabilize their lives1. Buprenorphine works by "blocking" the effects of other opioids at the mu-receptor which is responsible for opioids' pleasurable effects and their ability to relieve pain*6. Buprenorphine effects last longer than short-acting opioids such as heroin, oxycodone, fentanyl, morphine, or hydromorphone1. After consumption, buprenorphine is broken down by the liver and processed through kidneys.
*Please note, buprenorphine is not a recommended medication for pain relief.
What are the effects?
Buprenorphine is an opioid partial agonist meaning it produces similar but weaker effects to heroin, fentanyl, and methadone which are full opioid agonists. The medication prevents opioid withdrawal symptoms and reduces drug cravings. Buprenorphine opioid effects increase with continuous use until they level off at moderate levels, even if the dose increases8. Buprenorphine products are long-lasting and patients should consult with their provider on the appropriate daily dosage.
Please note, self-tapering might not be appropriate for some patients and the dosage reduction is best to be observed with your provider to avoid challenging withdrawal symptoms. You should contact your provider in order to make changes to your treatment plan to ensure a successful outcome.
Buprenorphine side effects
Buprenorphine side effects are similar to those of opiates but are associated with less physical dependence; it also has more mild withdrawal syndrome if discontinued5. Here is a list of side effects as reported by SAMHSA :
Common side effects of buprenorphine include:
Serious side effects of buprenorphine include:
Constipation
Headache
Tiredness or drowsiness
Dizziness
Muscle aches and cramps
Sweating
Dry mouth
Tooth decay
Inability to sleep
Fever
Blurred vision or dilated pupils
Tremors
Palpitations
Disturbance in attention
Respiratory distress
Adrenal insufficiency
Dependence
Withdrawal
Itching, pain, swelling, and nerve damage (implant)
Pain at the injection site (injection)
Neonatal abstinence syndrome (in newborns)
Buprenorphine has many pharmacologic and clinical advantages over other opioids. Comparingly, cognitive impairment is less frequent, and sexual effects are less prominent. The medication also has less impact on physiological processes such as metabolism, immune responses, and the autonomic nervous system than other opioids5.
Schedule an Appointment for Opioid Abuse Treatment
Buprenorphine Safety
Buprenorphine has opioid effects and it can be misused if taken without a physician's guidance or by people without an opioid dependency. In Suboxone, Zubsolv, and Bunavail medications the Naloxone component is added to decrease the potential misuse. When taken as prescribed*, Naloxone blocks opioid withdrawals.
*Buprenorphine sublingual tablets should never be crushed and injected as this will actually create withdrawal effects.
When taking Buprenorphine medication it is important to follow some precautions. Consult with your provider if you have other medications; do not mix it with illicit drugs, alcohol, sedatives, or tranquilizers; ensure your doctor monitors your health, specifically liver-related issues that can arise8. Mixing Suboxone or other buprenorphine products with benzodiazepines or alcohol can lead to an overdose or death.
It is important to take buprenorphine in the prescribed dosage to avoid potential withdrawals. Also when the prescribed medication dissolves in the mouth, patients should be aware of potential dental problems. After the medication is dissolved, patients should swoosh gently the water in their mouth and swallow; wait at least an hour before brushing their teeth not to damage them and let the mouth return to its normal state4.
For Pregnant and Breastfeeding Women
Buprenorphine is one of the options for pregnant and breastfeeding women that are diagnosed with opioid use disorder. Evidence shows that buprenorphine is equivalent or superior to methadone in managing OUD during pregnancy7. It is important to note that Buprenorphine produces a less severe neonatal syndrome than methadone which can have negative effects on newborns.
It is best to coordinate MAT care with behavioral therapy and other medical providers to ensure the health of the mother and the baby. Buprenorphine-naloxone such as Suboxone appears to be safe for treating women during pregnancy. Transitioning to a different opioid agonist might not be necessary as it has a greater misuse potential2. In some instances, the medical provider might transition a patient to Subutex, the Buprenorphine medication without the Naloxone component.
Suboxone Withdrawal Symptoms
If a person was exposed to heavy drug use and then significantly cut back or abruptly stopped their use will experience symptoms of withdrawal. Buprenorphine withdrawal although milder but still similar to heroin withdrawal; a person might experience3:
Agitation
Fever
Headache
Increased sweating
Nausea and Vomiting
Frequent mood changes
Abdominal cramping
Diarrhea
Buprenorphine Brand Names and Formulations
Buprenorphine is often prescribed to take sublingually for opioid addiction treatment. The medication peaks concentration in 40 minutes to 3.5 hours with a drug elimination half-life of 4-6 hours for your body to process half of the active substance5. Sublocade opioid blocker injections are usually given once a month with at least 26 days in between. The urine drug tests for substance use can detect orally taken buprenorphine for up to two weeks depending on the concentration and Sublocade can be traced for up to twelve months from the administration.
There are currently a number of FDA-approved buprenorphine medications on the US market for treating opioid use disorder9:
Generic Buprenorphine-Naloxon*e sublingual tablets
Subutex*: Buprenorphine sublingual tablets
Suboxone*: Buprenorphine-Naloxone sublingual films
Zubsolv*: Buprenorphine-Naloxone sublingual tablets
Bunavail*: Buprenorphine-Naloxone buccal film
Probuphine: Buprenorphine implants
Sublocade: Buprenorphine extended-release injection
*Oral products are designed to be dissolved; chewing or crushing them will not work as well.
Schedule an Appointment for Opioid Abuse Treatment
Treatment Compared
Buprenorphine treatment has alternatives that might suit some individuals based on their level of care needs.
Methadone Treatment
Buprenorphine and Methadone are both effective at reducing illicit opioid use and withdrawal symptoms. Despite being similar in this regard, Methadone is required to be taken under direct supervision as its a full opioid agonist. Buprenorphine is a partial opioid agonist, is safer, and can be more convenient as it requires less frequent appointments.
Patients may decide to switch between different opioid addiction treatment medications due to their medical, psychiatric, and substance use history as well as their preferences and treatment availability9.
Naltrexone Treatment
Naltrexone treatment for opioid use disorder might not be as effective as it requires full detoxification which might be hard due to the withdrawal symptoms and cravings. However, after the detoxification completion, the Naltrexone injections could produce similar effects for some patients as Buprenorphine-Naloxone medications.
Importance of Behavioral Therapy in Substance Use Treatment
Behavioral and Mental Health Therapy is an important component of a comprehensive treatment plan. It allows providers to create a personalized approach for the patient's success in recovery.
At New Horizons Medical, we offer a confidential and safe environment where patients receive supportive counseling services in individual, group, couples, and family formats. Participating in counseling is a major step toward creating a balanced and healthy lifestyle.
Additional and Contact Information
Contact New Horizons Medical Treatment Center to make an appointment for the Outpatient Alcohol Abuse program. Call 888-999-2041 for a free consultation and to schedule your appointment today. We offer a free with no cost to patients substance abuse treatment program for those with qualified insurance in Massachusetts.
Publishing Disclaimer
The information and visuals on this page can be used by non-/commercial websites only with proper attribution to newhorizonsmedical.org. When using any information presented here, please include a backlink to the page and reference where applicable.
References
CAMH. (2022). Buprenorphine – Opioid Addiction Treatment. Centre for Addiction and Mental Health. Retrieved October 7, 2022, from https://www.camh.ca/en/health-info/mental-illness-and-addiction-index/buprenorphine
Dooley MD, J., Gerber-Finn MD, L., Antone MD, I., Guilfoyle MD, J., & Blakelock MD, B. (2016, April). Buprenorphine-naloxone use in pregnancy for treatment of opioid dependence: Retrospective cohort study of 30 patients. NCBI. Retrieved October 12, 2022, from https://www.ncbi.nlm.nih.gov/pmc/articles/PMC4830675/#b6-062e194
MedlinePlus. (2022, January 15). Buprenorphine Sublingual and Buccal (opioid dependence). MedlinePlus. Retrieved October 12, 2022, from https://medlineplus.gov/druginfo/meds/a605002.html
MedlinePlus.Gov. (2020, May 10). Opiate and opioid withdrawal. MedlinePlus.Gov. https://medlineplus.gov/ency/article/000949.htm
NCBI. (2015, November 16). The New Kid on the Block—Incorporating Buprenorphine into a Medical Toxicology Practice. National Library of Medicine. Retrieved October 7, 2022, from https://www.ncbi.nlm.nih.gov/pmc/articles/PMC4781797/
NIDA. (2014). The Brain's Response to Opioids. National Institute on Drug Abuse. Retrieved October 7, 2022, from https://nida.nih.gov/sites/default/files/mom_opioids.pdf
Poon, S., Pupco MD, A., Koren MD, G., & Bozzo, P. (2014, July). Safety of the newer class of opioid antagonists in pregnancy. NCBI. Retrieved October 12, 2022, from https://www.ncbi.nlm.nih.gov/pmc/articles/PMC4096261/
Psychiatry Research Institute. (2022). What is Buprenorphine? UAMS Psychiatric Research Institute. Retrieved October 7, 2022, from https://psychiatry.uams.edu/clinical-care/cast/buprenorphine/
SAMHSA. (2022, September 27). What is Buprenorphine? SAMHSA. Retrieved October 7, 2022, from https://www.samhsa.gov/medication-assisted-treatment/medications-counseling-related-conditions/buprenorphine
VerywellMind & Gans MD, S. (2020, March 23). How Long Does Buprenorphine Stay in Your System? Verywell Mind. Retrieved October 7, 2022, from https://www.verywellmind.com/how-long-does-buprenorphine-stay-in-your-system-80228
Summary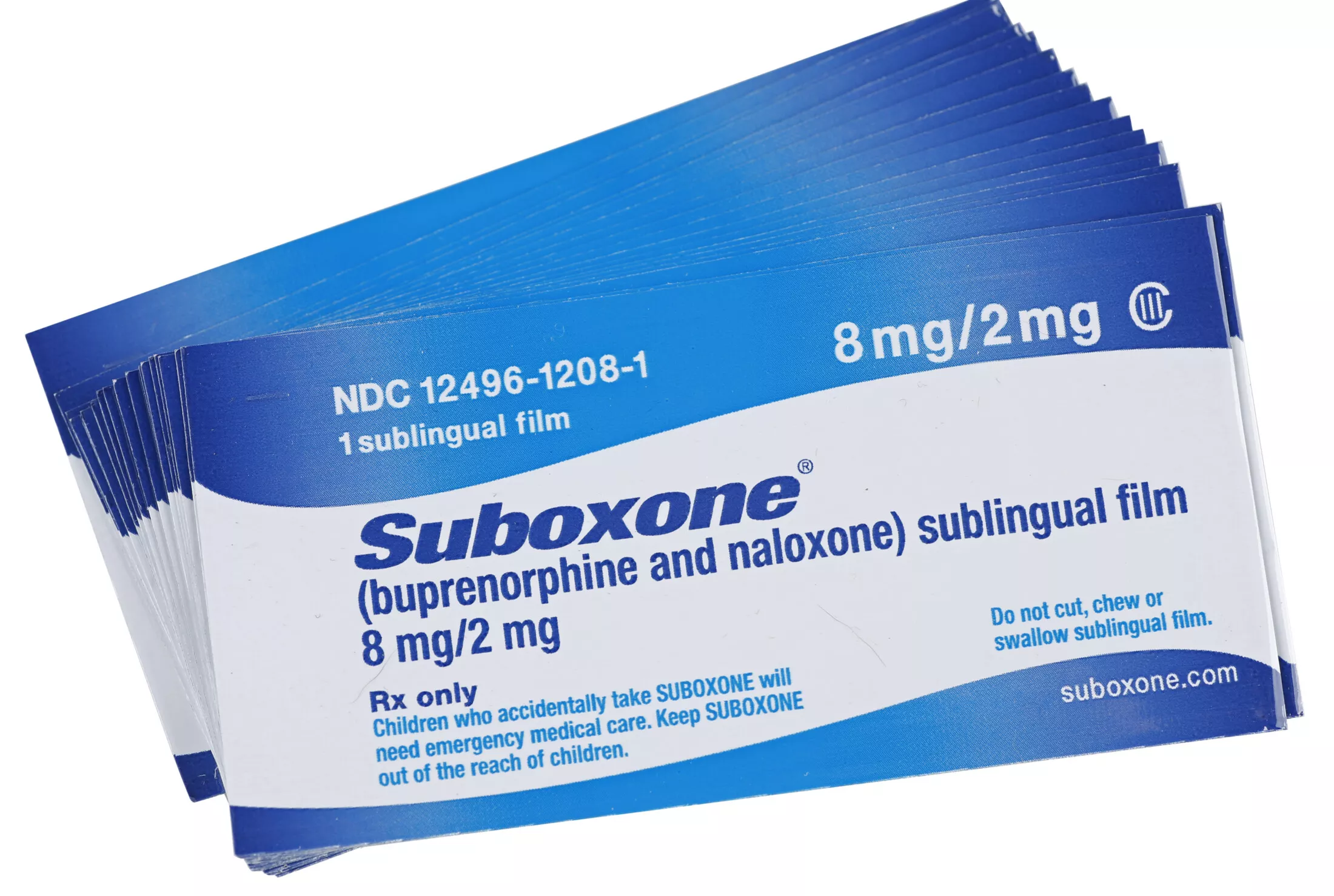 Article Name
What is Buprenorphine/Suboxone?
Description
Description of Buprenorphine and Suboxone for outpatient substance abuse treatment, how to enroll in a medically assisted program for opioid use disorder, and available drug use recovery programs at New Horizons Medical.
Author
Publisher Name
Publisher Logo